Tags: Training, Supportive Environment
IBE Chair David Grayson talks to Robbie Robertson, Virtual Office Managing Partner, Deloitte, based in Sydney, Australia.
The coronavirus, and its economic and social fallout, is a time machine to the future. Changes that many of us predicted would happen over decades are instead taking place in the span of weeks.
Anne-Marie Slaughter: President of the New America Foundation
In February, the Financial Times contacted more than 20 companies about their plans for the office, and most said they expected to bring in some form of hybrid working. How will organisations create and sustain ethical cultures in such circumstances?
The 2021 Deloitte Global Resilience Report emphasises that post-pandemic, organisations that want to be more resilient, have to be: prepared, adaptable, collaborative, trustworthy and responsible. 2 in 3 companies that removed silos before the pandemic reported managing the events of 2020 better than peers. During the crisis, teams responsible for Technology, Premises, HR, Training & Learning, Innovation and so on have had to work far more flexibly across conventional silos.
The pandemic has challenged many leaders – not least those senior leaders who may be less digitally mature, more invested in pre-pandemic strategies and uncomfortable in unchartered waters.
One of the "big plays" of Deloitte globally for several years now, is the Future of Work. Undoubtedly, COVID-19 has led many individuals and organisations to re-think how they operate.
Deloitte likes to differentiate between work, workforce and workplace: see diagram.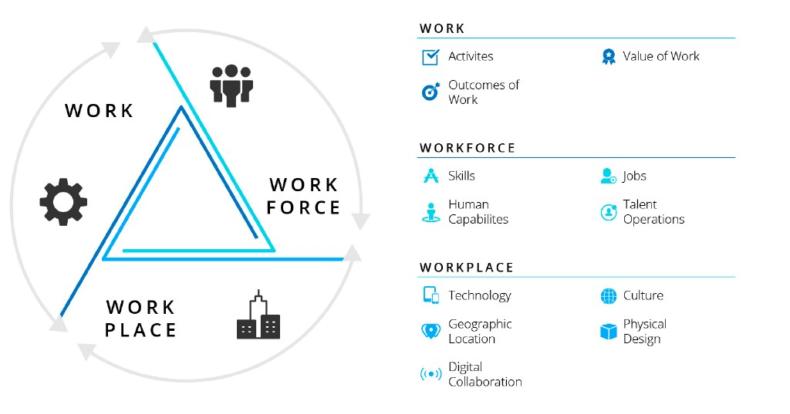 We can already see that the workplace of the future is more hybrid and more varied – both between and even within organisations. Some teams, for example, need to be behind particularly rigorous cyber-security, so may have more requirements to be office-based.
Research suggests that few employees want to be entirely office-based or home-based in future. Data from New South Wales Productivity Council suggests a spread of preferences. See diagram.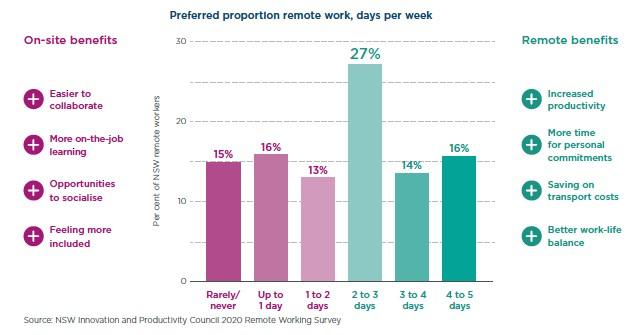 Overall, Deloitte research predicts a mix of workplace settings – at least for knowledge-workers – that many of us will flip between weekly, even daily. Working from home, On-the-go, in a distributed office, in a "Workplace Village (perhaps leveraging an existing branch network to provide spaces for the co-location of employees, customers and partners to test and iterate new commercial concepts and collaborative offers) as well as traditional corporate hubs: often in CBDs (Central Business Districts or adjacent to major transport hubs); or using a Virtual Office allowing for 24/7 access to traditional workplace services through an immersive digital platform.
More varied and hybrid working patterns put a premium on organisations being responsible and trust-worthy. They make ethics and a strong, ethical culture even more crucial going forward. Organisations will have to think about culture for the individual, the team or project, the department or Strategic Business Unit, the organisation as a whole – and what all this means on a digital platform too. There is an obvious read-across to the latest IBE Good Practice Guide by Campbell-Barr: Trends and Innovation in Effective Ethics Training, which emphasises the need for innovation in ethics training and to consider how to get the right content to the right people at the right time.
We will need to look in new places for inspiration and practical solutions for how we build more ethical, sustainable cultures. It may seem strange but one of these might be the on-line gaming community. This is a community where people rarely if ever meet up physically. Relationships are built on trust derived from track-record and performance. We can also learn from children and teenagers who have grown up digital and are very comfortable using multiple devices and platforms at the same time. As a father himself, Robbie sees how the young often have cameras on their laptops open so they are accessible to their network, whilst recognising also that too much screen time can become unhealthy and addictive. Undoubtedly, new norms and ceremonies will emerge to accommodate hybrid workplaces.
As speakers on recent IBE webinars like Prof Kirk Hanson (Jan 13th 2021) and the Campbell Barr principals: Chris Campbell and David Barr (Feb 11th 2021) have emphasised, in this new world, organisations will have to get much smarter at weeding out the "rotten apples" pre-recruitment or far earlier in-post; and to avoid becoming a "rotten barrel" through continuous improvement and innovation in training and communications about expected ethical behaviours. More positively, if employees believe their employer is trustworthy, ethical and responsible, they will take the initiative and facilitate these new ways of working. The onus though has to be on organisations to get better joined up insight between those responsible for the future of work, workplaces and workforces, and those in charge of talent development, learning, HR and Ethics & Compliance.
The new world of work makes ethics even more centre-stage. Themes IBE will be focusing on throughout 2021 with work-streams on managing ethically, building ethical cultures and Innovating Business Ethics.
Meantime, the key takeaway is: make sure that the delivery of ethics training keeps up with the changing workplace!
FURTHER READING:
• Deloitte: Re-inventing the Workplace (July 2020)
• Deloitte: From survive to thrive | The future of work in a post-pandemic world
• Building The Resilient Organization: 2021 Deloitte Global Resilience Report
Author
Robbie Robertson
Virtual Office Managing Partner, Deloitte
Robbie Robertson has worked in a number of leadership roles in London, New York and Sydney at well-respected creative agencies and design firms, before starting his own business which was later acquired by Deloitte Australia, where he is now Virtual Office Managing Partner.