An ethical culture is a combination of factors that define the way people within an organisation behave and make decisions.
Building an ethical culture starts with a clear set of values and an understanding of the purpose of the organisation. That leads to the development of a framework in which the values are built into people's behaviour and in the way the organisation and its staff operate on a day-to-day basis. The role of leadership is very important to do so effectively.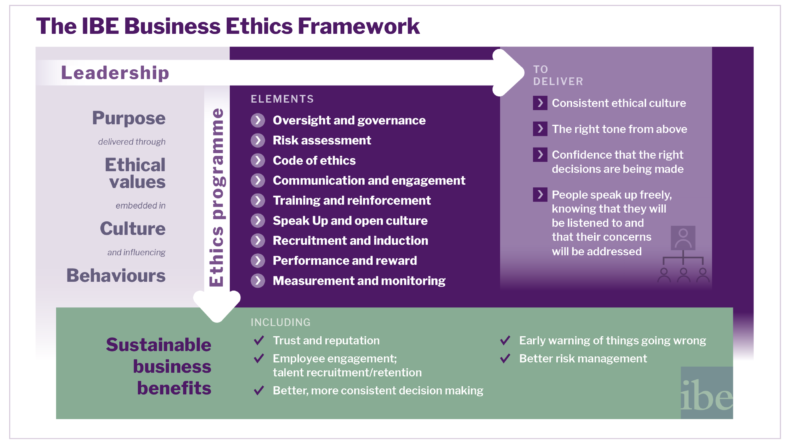 An ethics programme provides an excellent set of tools to embed values into practice. It helps to promote a consistent ethical culture that is forged by the right tone from above, where people have confidence that the right decisions are being made and that they can speak up freely when they have a concern.
But what are the main elements of an ethics programme? It usually starts with an ethics risk assessment, to understand the issues that are most relevant for the organisation. It also includes a code of ethics and supporting policies as well as training and communication activities to ensure understanding of what is expected and engagement with ethics.
Mechanisms to support high ethical standards are also needed - such as for raising concerns and reporting misconduct and including ethical criteria in recruitment and in performance appraisals, and detailed policies outlining how the organisation deals with issues like discrimination, procurement, bribery and corruption, gifts and hospitality and conflicts of interest.
Finally, an assurance process must be in place to monitor the effectiveness of the programme and the extent to which the organisation lives up to its values. Monitoring the programme consistently and benchmarking it against peers are excellent ways to ensure that it is effective and relevant. It is also important to provide transparent feedback to people and share information about the impact that the ethics programme has on the business.
The business benefits from getting it right are significant and include a boost in trust and reputation, improved employee engagement, as well as talent recruitment/retention, and better and more consistent decision making. When people feel that they can raise their concerns freely, it meant that it is easier for organisations to spot early warning of things going wrong, and this in return improves the overall risk management.
Doing business ethically makes for better business