Tags: Communication & Engagement, Ethical Values
This is the 21st annual trust and credibility survey conducted by Edelman and published in January 2021. The research is carried out through an online survey, which reached 33,000 respondents in 28 markets across the world.
The sample for the online survey, comprising over 33,000 respondents across 28 markets, is divided into 'mass population', representing 83% of the total, and 'informed public', which represents the remaining 17 percent and whose members must meet 4 criteria; aged 25-64, university-educated, in the top 25% of household income per age group, and reporting significant engagement with political and economic news.
This year's Barometer reveals a 'global infodemic', in which people increasingly don't know where to turn for information they can trust, with the COVID-19 pandemic, racial tensions, political instability, and other issues contributing to the erosion of trust on a global level. The erosion of trust is not uniform across society, however; in the USA for example, there is a 39-point gap in trust in media between Biden voters (57 percent) and Trump voters (18 percent).
Lack of trust in institutions and information, political turmoil, and the COVID-19 pandemic are serious and interconnected problems presenting major challenges to society. Despite this, business is enjoying relatively high levels of trust, but this comes with responsibility – and real challenges.
Raised expectations for business
Business is more trusted than government in 18 of the countries surveyed, including the UK.
Across the global sample, business was the only institution to be considered both ethical and competent.
This trust also carries responsibility – business is increasingly expected to fill the void left by government failures.
86% expect business leaders to speak out on issues like the pandemic, job automation, and other societal issues.
66% said CEOs should take the lead on change rather than waiting for government to impose change on them, while 65% agree that CEOs should be accountable to the public, not just shareholders and boards.
Given the scale of societal problems, and the widespread belief (62%) that the pandemic is disproportionately affecting the poorest and most vulnerable, the expectation of leadership on social issues is no small task for business to face up to.
Keeping it local – People tend to trust their own employer
People's trust in their employer is stable or rising in 18 of the markets included in the research. At the global level, 'My Employer' achieved a trust score of 76%, significantly higher than business in general on 61%.
Communications from one's own employer were ranked more trustworthy (63% in the UK, 61% globally) than communications from national governments, advertising, major corporations, social media, and other information sources.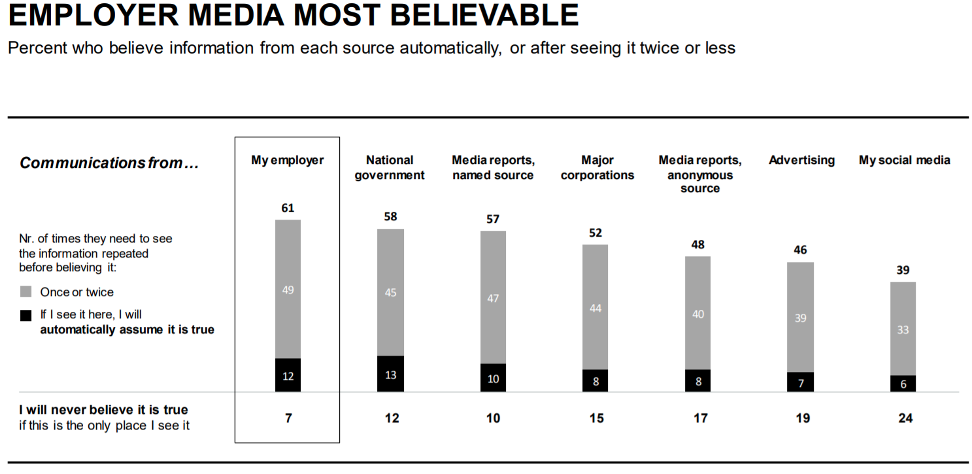 Beliefs and Habits
Only one in four respondents practise good information hygiene (avoiding echo chambers and verifying information before amplifying or repeating it).
Those with the option to choose are split on whether to keep working from home or return to the workplace, with 52% continuing to favour WFH. Of those, 58% cite the risk of contracting COVID-19 as the reason (smaller proportions cited increased productivity or enhanced work-life balance).
There is significant vaccine hesitancy globally, with only 1 in 3 saying they would take the vaccine as soon as possible.
56% believe the pandemic will accelerate the rate at which companies replace human workers with AI and robots.
Conclusions
The findings of the survey indicate that people are questioning the reliability of information, no matter where it comes from. From the unprecedented experience of the COVID-19 pandemic to controversial social issues, many people feel less sure than ever before about who to trust and what to believe. This lack of trust has real consequences – for example widespread hesitancy to get vaccinated.
On the whole, the results reflect relatively well on business, which is the only institution to be rated both competent and ethical, and is more trusted than government in the majority of the countries surveyed. This pattern of relatively high trust in business is reflected at the level of individual businesses too, with 'My Employer', the most trusted information source, beating out competitors from national governments to major corporations to social media.
This trust doesn't come without responsibility, however. Increasingly, business is expected to take the lead on social issues and to fill the void left when governments and other institutions underperform. In a year where businesses have faced significant challenges of their own, stepping up efforts to fix societal ills is a real challenge, but where there is alignment with a company's purpose, there might be great opportunities too.