Tags: Ethical Values
Read the latest blog by Mark Chambers, IBE's Associate Director (Governance).
Anyone who has travelled with kids knows that it is only a matter of time before the inevitable question 'are we there yet?' is raised from the back seat. In a similar way, any conversation with a business leader nowadays seems to lead inexorably to the topic of company purpose.
Discussions about company purpose are not new, of course - the migration away from traditional notions of shareholder primacy and the growing demand for companies to play a clearer and more valuable role in society had very considerable momentum even before the pandemic - but Covid has accelerated this trend. Indeed, many companies have cited their purpose as having been a vital 'North Star', helping them navigate through the challenges of the past year.
These developments are to be welcomed and applauded. They reflect a deepening understanding that businesses are part of a complex stakeholder ecosystem and that sustaining and supporting that ecosystem is in everyone's best interests. A focus on purpose makes good business sense.
But what do leaders really mean when they talk about purpose? The nicely drafted purpose statement on the inside front cover of the annual report is good evidence of well-meaning leadership, but it can only take you so far. The purpose statement alone is not enough to ensure that the aspirations it lays out are reflected in the day to day culture that employees feel at work and the experiences of customers and other stakeholders when dealing with the organisation. Those warm words have to translate from the world of marketing and be reflected in consistent behaviours in the front line in order to deliver on purpose.
Purpose statements sit alongside vision statements and the other manifestations of strategy, each of which answers a different strategic question and each of which, if done well, prompts a slightly different emotion. This diagram shows how it might all fit together: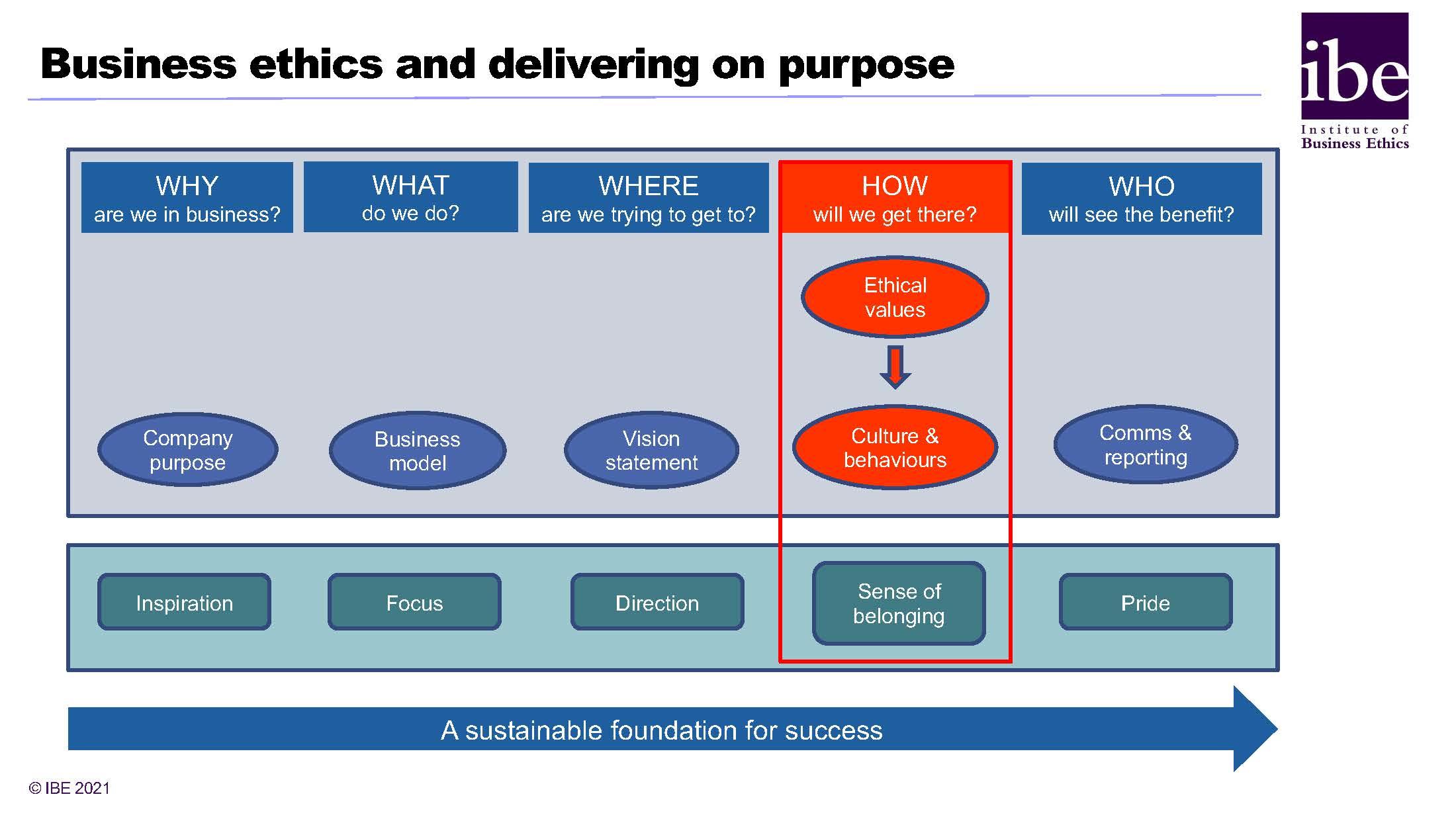 Clarity and consistency in the answers to the strategic questions will produce a set of corporate statements that are coherent and which together generate the range of emotions needed to maximise employee engagement and build customer loyalty. They are key to delivering on purpose and building a sustainable foundation for success.
At the IBE, we concentrate on the red box and the vital role of ethical values in shaping culture and behavioural expectations for the organisation. Ethical values are a core driver in delivering on purpose by creating that sense of belonging that is characteristic of a consistent, inclusive culture. But of course, ethical values are also only warm words unless there is a strong ethics programme to embed them and ensure that they have special meaning and resonance for the organisation.
So are we there yet? Maybe not, but an investment in business ethics will be an essential business tool to help us on the journey.
Author

Mark Chambers
Associate Director - Governance
Mark brings 30 years of experience from a successful career in business to help grow the IBE's interaction with boards, regulators and policy makers.
After graduating in Zoology from Oxford University, Mark re-trained as a lawyer and spent his early years at Slaughter and May in their London and New York offices before moving into business. During his career, he managed world-class global functions responsible for governance, legal and regulatory risk management in large, complex, regulated businesses. He was General Counsel & Group Company Secretary at RSA Insurance Group and at Worldpay Group, and held senior positions at American Express and GE Capital. He retired as Deputy Group Company Secretary of HSBC in 2018 to pursue a second career, which also includes non-executive and advisory work.
For many years, Mark has had a successful career as a non-executive director. He is a member of the board of the Care Quality Commission, the independent regulator of health and social care in England, and chairs their Regulatory Governance Committee. He is also a non-trustee member of the Audit and Risk Committee of Maggie's.
Previous roles included the Chair role at Amref Health Africa and Audit Committee Chair at WWF, where he also led the Committee that oversaw the development of the charity's exemplar new headquarters building. Mark was a finalist in the 2014 Sunday Times Non-Executive of the Year Awards.
The truth of the matter is that you always know the right thing to do. The hard part is doing it. – General H. Norman Schwarzkopf