Tags: Anti-Bribery & Corruption (ABC), Human rights, Diversity, Treatment of Employees, Data privacy
This resource presents an overview of the ethical concerns and lapses, as well as the positive business ethics stories, that the IBE recorded for its media monitoring exercise in 2021. It provides an analysis of the year's trends and the issues and sectors that featured most frequently.
Speed read
The top 3 sectors with the most ethical lapses recorded this year are the same as last, with an almost identical number of lapses recorded for each
Treatment of employees sees a significant increase in both positive and negative stories to become this year's biggest ethical issue
The category of issues related to behaviour & culture moves down to second place with a massive reduction in lapses recorded
Sustainability dominates the positive news once again
The influence of COVID policies is apparent, with several stories that do not fall clearly in either the positive or negative categories. This could illustrate that many organisations are grappling with new ethical dilemmas posed by the pandemic
The IBE monitors the media throughout each year to record positive and negative stories that focus on business ethics issues. While this briefing does not comment on the severity of ethical lapses or concerns, it does show which sectors and issues were most cited. This analysis gives a good indication of the challenges faced by businesses and the actions, constructive or otherwise, that some are taking to overcome those challenges.
The rise of technology to assert itself as the most ethically problematic sector in the last two years, surpassing banking and finance, reflects its growing ubiquity in our lives and the challenges around issues such as data privacy that are seemingly inherent to the industry. Meanwhile, the growth in the number of stories concerned with the treatment of employees seems to reflect, significantly, the necessary increase in actions taken by companies to alter long-established working patterns in response to the pandemic.
Click through the tabs below to find more details and analysis on the ethical lapses we recorded, sorted by sector and by issue, and on the positive business ethics stories that featured in the media this year.

By Sector
Ethical lapses by sector
Including all sectors for which more than 20 lapses were recorded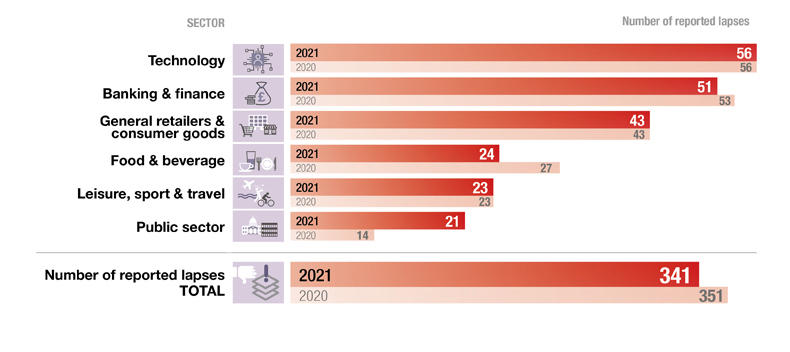 Technology retains top spot: having ousted banking & finance for the first time in 2020, technology has the most ethical lapses recorded with 56 stories, the same number as last year. Once again, data protection & privacy is the most concerning issue for the sector and just a few big tech firms dominated the headlines
Banking & finance avoids first place again with two fewer lapses recorded. Behaviour & culture is this sector's biggest issue although treatment of customers, treatment of employees, and bribery & corruption also feature heavily
General retailers & consumer goods takes third place again with the same number of lapses recorded as last year. Product safety & quality, this year's biggest 'growth' issue, features most frequently for this sector, reflecting a series of product recalls that occurred in 2021
Food & beverage is fourth again with 3 fewer lapses recorded. Treatment of employees was the sector's biggest issue this year
Leisure, sport & travel jumps up to fifth as the travel sector continues to face issues over holiday refunds
By Issue
Ethical lapses by issue
Including all issues for which more than 20 lapses were recorded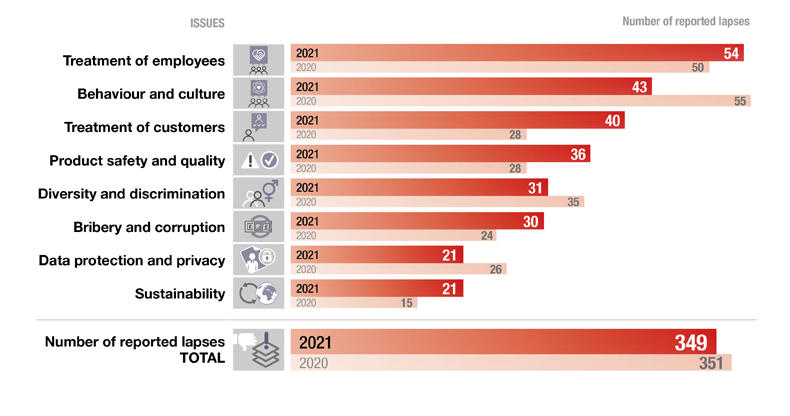 Treatment of employees is this year's biggest ethical concern with 54 lapses recorded - 4 more than in 2020, seeing it surpass behaviour & culture for the first time since 2018. Reports of employees who felt underpaid, overworked, or who had safety concerns dominated these stories
Behaviour & culture drops to second place with 12 fewer lapses recorded this year - the biggest downward trend across all issues. Stories about toxic workplace culture, poor leadership from executives, and undesirable consequences of business behaviour fall under this category. This significant downward trend could indicate that many business leaders are taking more care over their own, and their companies', conduct
Treatment of customers maintains a sharp upward trajectory to enter the top 3 most reported-on issues this year. With the number of lapses reported having doubled from 14 in 2019 to 28 in 2020, it jumped again to reach 40 this year. As suggested in last year's publication, it seems that more companies are passing on the costs of the pandemic to their customers
Product safety & quality is another big 'growth' issue this year, with an additional 8 lapses recorded seeing it move up to fourth place. Big supermarkets have dominated these stories with several product recalls occurring this year. This trend further underlines the point made above in relation to the treatment of customers category
Diversity and discrimination drops out of the top 3 with 4 fewer lapses recorded. This trend runs parallel to the fall in emphasis placed on this issue in our 2021 Attitudes to Business Ethics Survey, likely reflecting a shift in public attention away from the issues of racial injustice which dominated headlines last year
Despite being the business ethics issue most in need of addressing according to the British public (as found by our 2021 Attitudes to Business Ethics Survey), corporate tax avoidance was one of the least reported-on issues in 2021
In a further parallel with our 2021 Attitudes to Business Ethics survey, the issue of bribery & corruption has become more prevalent this year, with an additional 6 lapses recorded
Positive Stories
Positive stories by sector
General retailers & consumer goods tops the list of sectors with the most positive stories as food and beverage, last year's most positive sector, has 10 fewer stories recorded
Banking & finance and leisure, sport & travel both see significant positive growth capping off a good year for the former as it also records far fewer lapses
Positive stories by issue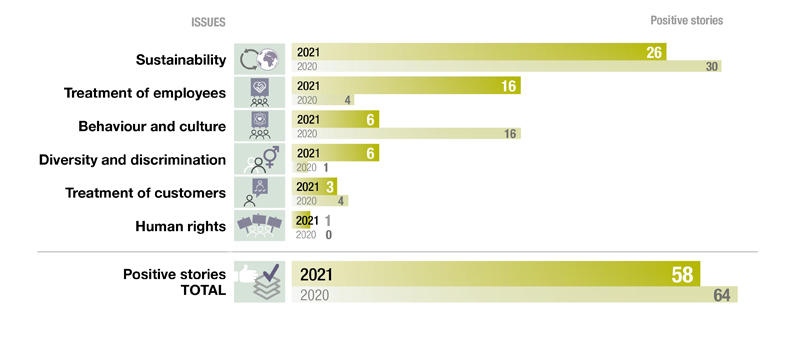 Sustainability is still the hottest topic with 26 positive stories, representing nearly half of the total positive stories recorded this year. This follows reporting on the COP-26 summit and more companies taking action to tackle climate change by altering their business models
Treatment of employees stories see a three-fold increase: we observed an additional 12 positive reports in this category, which sees it become this year's second-most prevalent positive issue. With this issue also taking the top spot in the negative category, it accounts for the greatest number of stories overall. This suggests, as has previously been noted by the IBE, that, following the pandemic, employees and employers are increasingly reconsidering and altering long-standing ways of working, for better or worse
Diversity & discrimination sees a significant positive increase, which might suggest that effective actions have been taken this year to address the serious issues that were brought to light in 2020
The impact of COVID-19
We noticed a continuing growth in the number of stories that focus on ethical challenges posed by the pandemic and, most interestingly, on as yet unresolved ethical dilemmas. For example, we felt unable to classify stories about companies enforcing mask-wearing for customers, or mandating vaccinations for employees, as positive or negative. All of these stories involve tradeoffs in ethical values and consequences, such that a case could be made on either side.
7 stories about COVID safety measures for customers and employees were recorded: some companies cite protection of staff from COVID as justification for enforcing mask-wearing, while others cite protection of staff against abuse as justification for not enforcing them
4 stories about mandatory vaccinations for workers: public opinion on this issue varies between nations and regions; for example, the government of New York City has now mandated vaccination for all workers in the city. We anticipate further growth in these stories in the UK in 2022 and increased public debate
6 lapses within the treatment of customers reported on issues with holiday refunds while only one positive story about a refunds policy shake-up was recorded
1 lapse and 6 positive stories about changing work patterns in response to COVID which powered the positive growth in the treatment of employees category
Researchers at the IBE monitored various major news outlets over the course of the year to record all stories that featured business ethics issues in both a positive and negative light. These stories were categorised according to the sector within which the company concerned operates and the specific issue that the story is about. We then analysed these data to determine which are the year's most prevalent sectors and issues and compared them with last year's data to gauge interesting and important trends. We only count each story once, regardless of how many times it features in the same media outlet or across various outlets.