Tags: Anti-Bribery & Corruption (ABC), Gender pay gap, Remuneration, Tax, Technology, Human rights, Treatment of Employees
This briefing provides an overview of the ethical concerns and lapses that were recorded by the IBE in its monitoring of media coverage in 2019. It gives an overview of which sectors and issues related to business ethics were most covered in the news. For 2019, we have recorded a total of 361 different stories involving lapses of companies with a UK presence.
Speed read
The Banking and Finance sector maintains its position at the top of the list for most ethical lapses recorded, with a total of 65 for 2019.
In many sectors, such as Support and Professional Services and Technology, well-known large firms appeared repeatedly in our monitoring and were implicated across a host of ethical issues.
Just five sectors together accounted for 56% of ethical lapses recorded in 2019.
The most common type of issue recorded across all sectors was Behaviour and Culture. This category includes stories on issues such as sexual harassment, bullying, excessive professional pressure, misuse of social media, and widespread cheating on training or exams.
The second largest category this year was Diversity and Discrimination. The category has seen an increase of almost 50% in the number of stories recorded. A large proportion of these stories covered gender equality issues, most notably pay discrepancies.
We recorded 45 stories which we categorised as affecting Various Sectors because their scope was not confined to one sector, let alone an individual company. Of these, 17 were on the topic of Diversity and Discrimination.
Sustainability was the only category in which more positive than negative stories were recorded.
While this briefing does not give detailed information about the severity of ethical lapses in the business community, it does provide an indication about the sectors which were most cited, and the nature and frequency of the ethical issues concerned. Figures 1 and 2 summarise the main findings. The vast majority of the news stories recorded focus on negative corporate behaviour, and these stories form the basis of this briefing. However, as some good news stories about businesses' handling of ethical issues do occur, a short section at the end of the briefing will offer more information about the positive stories that were recorded.
Lapses by Sector
In 2019, the highest number of ethical lapses was recorded in the banking and finance sector (65 stories), followed by the technology sector (59 stories), and the support & professional services sector (33 stories). Collectively, these three sectors account for 43.4% of the total number of headlines.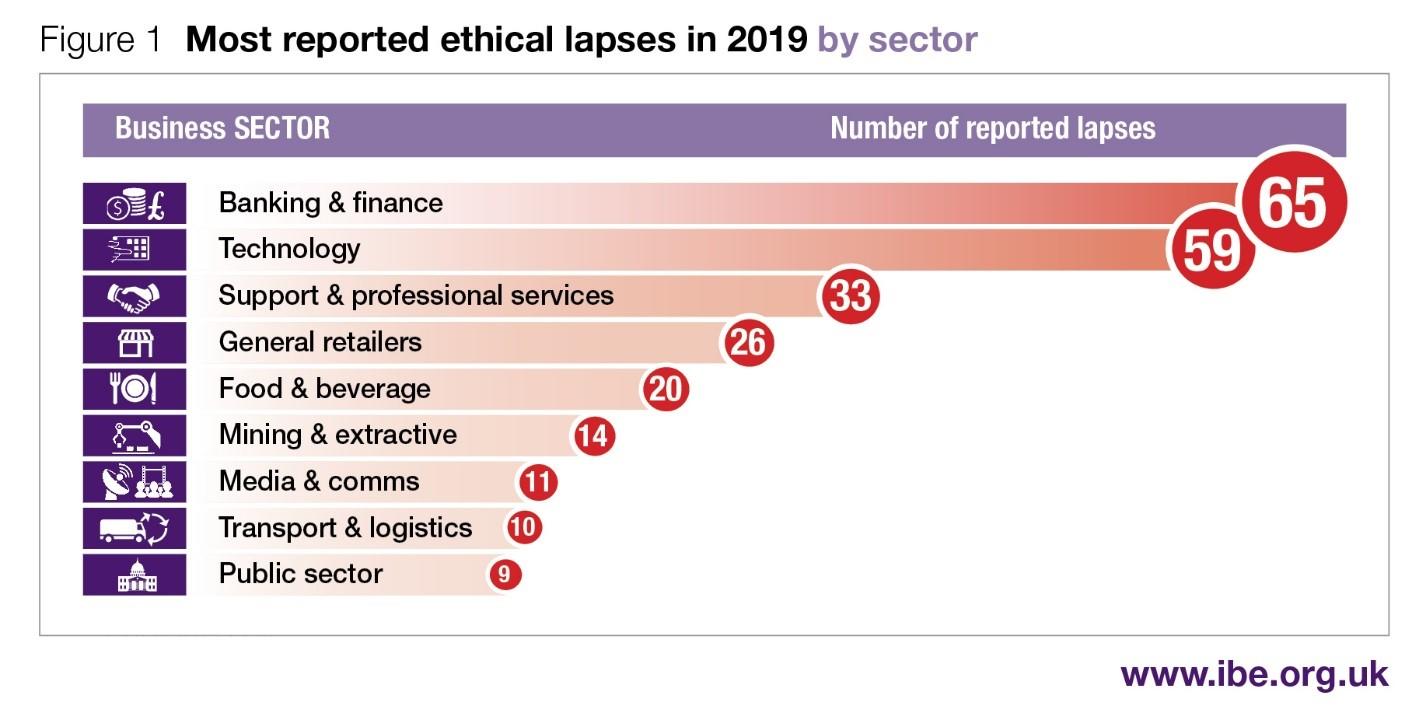 Issues of Concern
Irrespective of sector, the biggest issues of concern in 2019 were those relating to behaviour and culture (47 stories), diversity and discrimination (46 stories) and treatment of employees (39 stories). Collectively, more than a third (36.5%) of the total number of ethical lapses recorded were related to these issues. See Figure 2 for more data on the number of lapses categorised by issue area.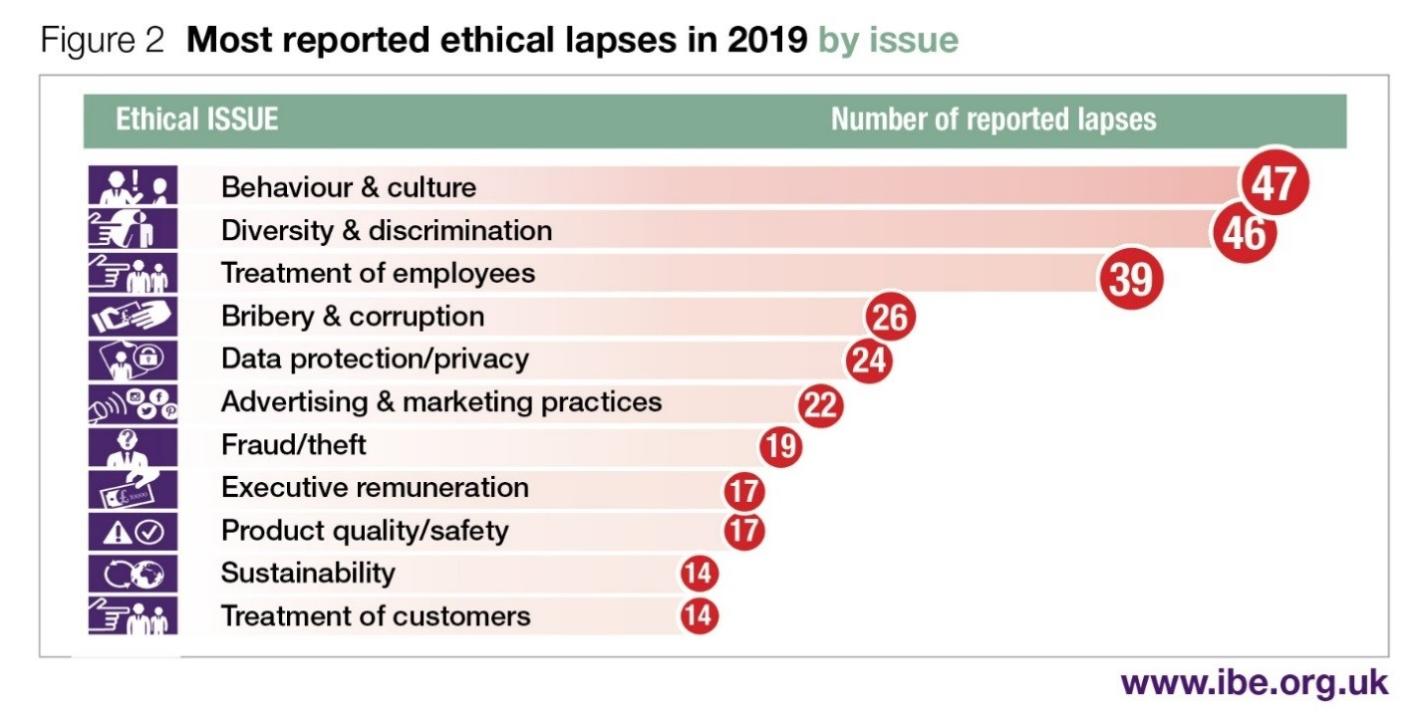 IBE_Briefing_68_Business_Ethics_in_the_News_2019.pdf
Author

William O'Connor
Researcher, IBE, W.OConnor@ibe.org.uk
As a Researcher at the IBE, I contribute to a wide range of research projects and publications, carry out advisory work for supporter and non-supporter organisations, and assist in the delivery of events and training.
I joined the IBE in October 2019 as an intern after concluding my studies for an MA in Corruption and Governance at Sussex University. After 3 weeks as an intern, I became a permanent member of staff at the Institute.
Integrity has no need of rules – Albert Camus