Tags: Customers, Communication & Engagement
YouGov conducted this study to gauge the attitudes of the British public to business ethics and how these perceptions influence the behaviour of consumers and businesses alike. The paper compares results from a representative sample and a group of influential 'catalysts'.
Speed read
Although the majority say they like it when businesses demonstrate ethical commitments, the number of people whose choice of products is chiefly driven by ethical concerns is low (6%).
Three in ten Brits think that companies treat ethics and sustainability like the latest fad or trend.
Compared to the nationally representative group, the 'catalyst' group demonstrated a higher level of concern about nearly every business ethics issue they were asked about.
65% of catalysts and 40% of the general public are willing to pay more for ethical products and services. This willingness to pay for high ethical standards offers an opportunity to businesses to reap financial rewards for doing the morally right thing.
The paper compares results from a representative sample and a group of influential 'catalysts'. The last section of this summary will give some more information about the makeup of this group.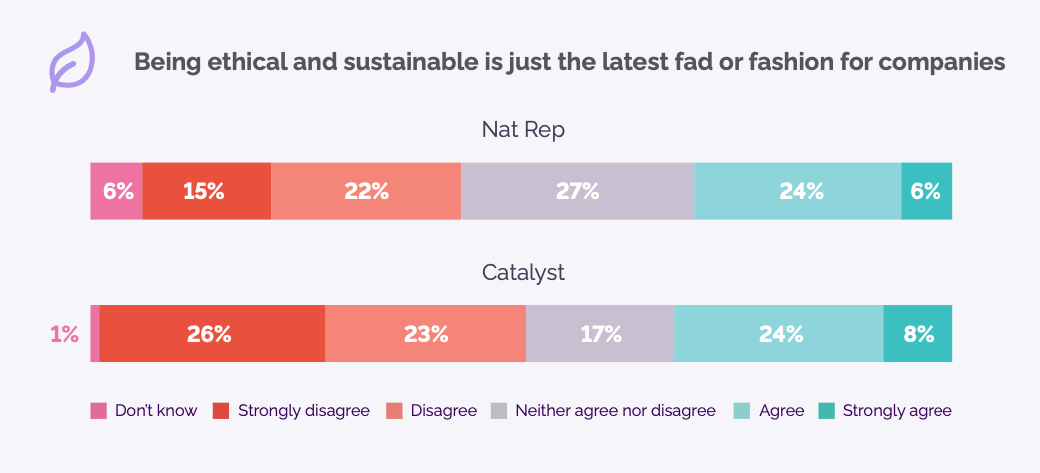 Overall attitudes
62% of Brits like companies to have a moral message, while 30% suspect that companies treat ethics as a fad.
38% of catalysts and 28% of consumers think companies are becoming less ethically and morally focussed. An additional 35% of catalysts and 39% of others say they can't decide.
65% of catalysts and 40% of consumers are willing to spend more money on ethical products and services.
Issues of concerns
The two groups were broadly aligned in terms of the issues they prioritise, but catalysts care more about almost every issue.
High priority issues include companies making excessive profits (important to 68% of the general public and 75% of catalysts) and lying about product performance issues (67% of the general public and 76% of catalysts).
Issues where a 'concern gap' exists include diversity among senior managers (important to 49% of catalysts but just 30% of the general public), and monopolies and excessively dominant market positions (59% of catalysts and 42% of the public).
Purchasing habits
55% of the general public and 44% of catalysts say they don't perform ethical research before making a purchase.
The proportion of catalysts who do perform ethical vetting declines as they age, but increases with age for non-catalysts.
Just 6% said ethical considerations are their primary criteria for choosing products. Price is the key criterion for 45%.
Influencing and regulating business behaviour
Respondents were asked to identify from a list which bodies effectively influence companies to do the right thing.
For catalysts, the top 3 were government-appointed regulators, public action (e.g. boycotts, strikes), and MPs/government in third place.
For consumers, the same 3 entities made the top 3, but second and third place were switched.
Social media, at 28% for catalysts and 25% for others, performed poorly, as did charities/NGOs (19% of catalysts and 16% of others).
Conclusion
The survey shows that there is a broad spectrum of opinion amongst the public, although catalysts tend to be more invested in business ethics concerns than other consumers. The issues which people prioritise vary, although almost everyone claims to care about business ethics to some degree. This is arguably not reflected in the share of people who conduct ethical vetting, or make ethical considerations their key criteria for deciding what to purchase.
In both groups, only a minority believes that business is becoming more ethical. Given that regulation has generally moved towards higher, not lower, standards, this could be indicative of a breakdown in communication between the public and business. The relationship between doing business ethically and long-term success is well established, but if businesses cannot or do not communicate their ethical credentials to the public, they will miss out on these benefits.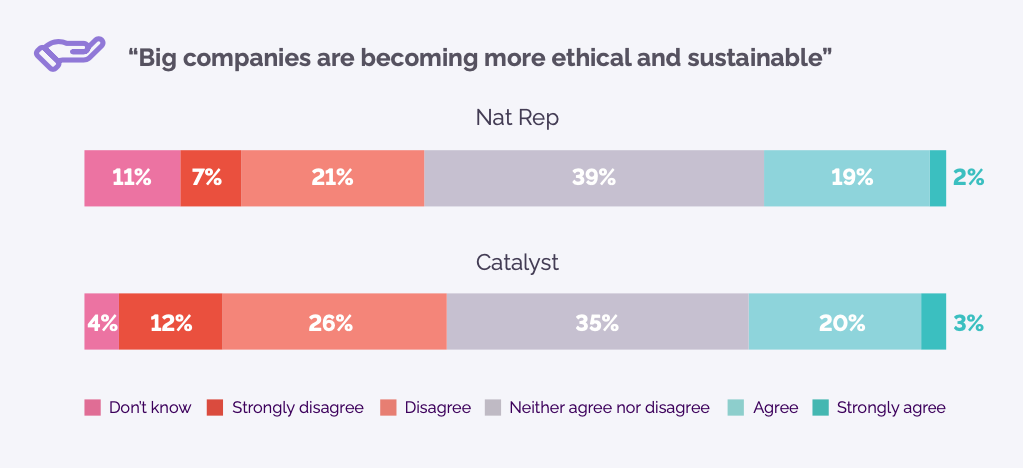 The 'catalyst' group is of interest because their behaviour has a greater impact. They are more likely to proactively support the causes they care about, and are therefore more likely to have an effect on companies that have caught their attention. Beyond their individual power, catalysts are 'highly connected and potentially more likely to sway hearts and minds in their communities.' Members of this group are disproportionately part of the highest social grades, usually left-leaning and pro-European, more active on social media than the general public and – perhaps surprisingly – fully half of the group are 55 or over. The catalyst group is overrepresented in influential sectors like media, technology, and the arts. Due to a combination of their relatively high incomes and their social influence, this group can disproportionately affect businesses' bottom lines.