Engaging staff and embedding ethical behaviour can be difficult. Whatever your approach to ethics, it is important to identify the most effective initiatives to embed ethics in decision-making and mitigate the risks your organisation may face.
The IBE can help you identify the specific areas where you need support. The diagram below outlines an ethics programme - we can work with you to build an appropriate and tailored approach to meet your business needs.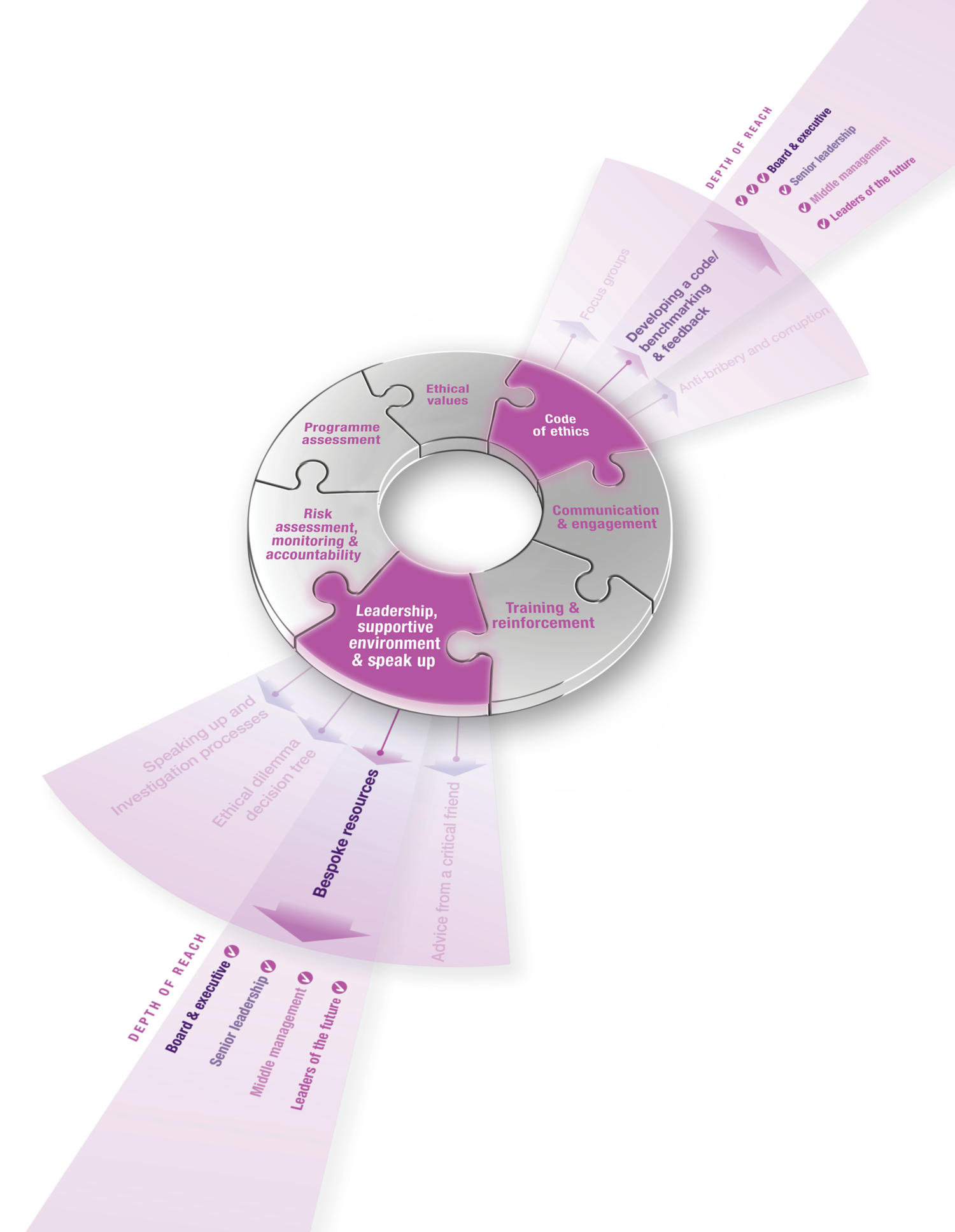 We are available to offer support on any aspect of your programme. Whether it's just a brief phone call for advice, or more extensive formal support on the assessment, development, implementation and embedding of your ethics programme, our experienced team is always happy to help.
Services available:
What others have said
As Head of Culture and Conduct, I have thoroughly enjoyed working collaboratively with the IBE, and benefitting from their great experience to advance the embedding of our own Culture & Conduct Programme. Partnering with the IBE has been an enabling element for our organisation, providing us with insights, advice and experience garnered from a broad spectrum on organisations and sectors.

Derek Hammond, Societe Generale Corporate & Investment Banking
I wouldn't underestimate the influence that the IBE has had on our company. It is particularly powerful because of the delicate and careful way in which it respects business and commercial realities. It has managed to create an appropriate 'safe space' for the consideration of difficult issues – but in a supportive and positive environment. I rely on the guidance from IBE as being the authoritative voice on how to bring about a healthy ethical business culture. IBE has seen and heard it all before and I don't want to reinvent the wheel!

Rachel McEwen, SSE
The IBE provided valuable input during the development of our compliance programme. Their creative assistance with the communications and training materials meant that these were fun, entertaining and to the point. Their feedback on our code of conduct included relevant benchmark data to ensure we were consistent with the best practice in our sector. Most importantly, as a trusted adviser in addressing compliance issues, I have found that the IBE brings discretion, wisdom and sensible practical advice.

Director of Compliance, Global Luxury Hospitality Group
The IBE team are always friendly and approachable, a pleasure to work with. It is very valuable to have access to their expertise and to know that their observations reflect global good practice. We found this engagement valuable, it gave us confidence that we are getting the basics right, and provided practical suggestions of how to improve. We would be happy to work with the IBE team again.

Christine Ryan, ASB Bank NZ