IBE Annual Lecture 2024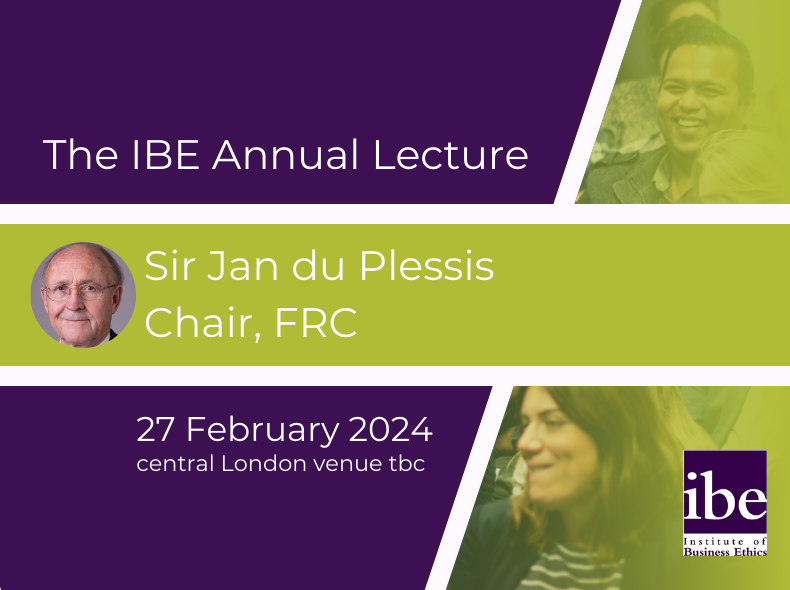 Save the date! The Institute of Business Ethics' inaugural annual lecture will be delivered by Sir Jan du Plessis, Chair of the Financial Reporting Council, on Tuesday 27 February 2024.
The lecture will be held at a central London venue from 5.30pm. More information on exact timings and venue will follow.
How to register
To make a booking you will need to...
Register for a free online profile
To register for this event you will need to create an online profile, to do so please complete the registration form.
Once you have completed this registration form you will progress through to a first-time login section where you will be asked to select your mailing preferences. This will enable you to receive IBE newsletters, purchase publications, book training, as well as register for this event.
Lastly please don't forget to set up your password; you can do this via the email received after registration, or via the update password section of the online portal. Passwords must contain 8 characters consisting of 1 uppercase, 1 number and 1 symbol.
Already have an online profile?
If you already have a profile but cannot remember your password please request to set your password - you will then receive a link to do so via email. Once you have set your password you will be able to login and register for the meeting.
What happens next...
Once you have registered you will receive a booking confirmation. If you have any issues please email events@ibe.org.uk.
We look forward to you joining our face-to-face event.
Photography
We may be photographing and/or filming at this event.
If you do not wish to appear in any of the content captured, please speak to one of our members of staff at the event or alternatively, please contact the Events Team at events@ibe.org.uk
Content may be used by the Institute of Business Ethics for broadcast, commercial and/or promotional purposes, published on our website and social media.