BEN refresher and the IBE ethics framework
The last year and a half has been an interesting and difficult time. We're hoping that this meeting can provide a chance for reflection on what good may have come out of this period and how these lessons can shape how we continue to progress the BEN network.
This BEN refresher will be a chance for you to share your thoughts on how you would like the BEN group to move forward:
What do you want to achieve by attending meetings of this group?
Which topics or issues would you like BEN meetings to focus on?
What format would you prefer these meetings to take?
One suggestion would be to organise our BEN discussions around the recently revamped IBE Ethics Framework: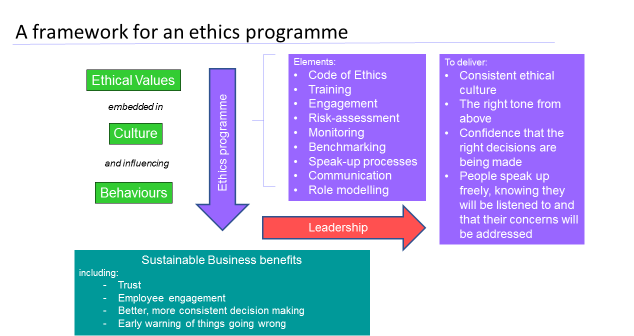 This framework provides a helpful agenda for the kinds of topics and issues that we'd like your input on in this meeting and moving forward.
We're particularly interested in hearing your views on the elements listed in this framework and your experiences of using and developing these in your own organisations.
Speaker
What are Business Ethics Network (BEN) meetings?
Our network meetings, which happen regularly thoroughout the year, are the pillars around which the community is built. These invitation-only events are usually focused on a specific topic and are led by a member or members of the network who candidly share their experience and pose probing questions for group discussion.
All network meetings are hosted and facilitated under the Chatham House Rule by the IBE.
These meetings are both practitioner-led and practitioner-focused, with invitations only extended to those responsible for the ethics and compliance programme in their organisation (which must have more than 250 employees). Invitees are, however, free to recommend alternates / subject-matter experts from their organisation to attend either with them, or in their place. Registrations are limited to 2 participants per organisation per meeting.
Network meetings are a unique opportunity to join the conversation to discuss the challenges, issues and successes of embedding ethical values within your organisation, with your peers.

Event Guide
BEN - how to register
This forum is reserved for our Business Ethics Network members only.
To register for the forum you will need to login. If you have not activated your online profile please request to set your password - you will then receive a link to do so via email. Once you have set your password you will be able to login and register for the meeting.
If you don't have a profile but think you fit the forum criteria please email events@ibe.org.uk.
What happens next...
Once you have booked your place you will receive a confirmation.
We look forward to you joining our online event, and we hope you stay safe and well. Please note that when attending our online events, your Health & Safety is your responsibility.
Chatham House Rule
To encourage frank discussion amongst participants and the open sharing of ideas and experiences, all IBE events take place under the Chatham House Rule unless stated otherwise.
This means that participants are free to use the information received but neither the identity nor affiliation of the speaker(s), nor that of any other participant, may be revealed.